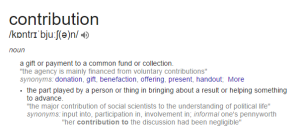 At The Women of Success we live by the 3C's:  Collaboration, Community, Contribution.  We have found that these three elements when added together not only open up opportunities but also just plain feel good.
Each Woman of Success takes her business seriously and she also takes her contribution seriously.  This is why a portion of the profits we bring in through products and services will always be used to give to the betterment of society in some way.
In our first collaborative effort, the book My Paris Story, we gave a portion of our proceeds to Paris for the Philippines, and organization that worked directly with the amazing association Gawad Kalinga in the Philippines to help rebuild destroyed villages after Typhoon Hiyan in 2013.
As our community grows at an international level now, it is our intention to pay it forward more often and with a greater impact.
Together there is no end to the goodness we can share with the world!